Sea freight, also known as ocean freight, refer to the transportation of goods via cargo ships across international waters. This mode of transportation is one of the most cost-effective options for moving large quantities of goods over long distances, especially when compared to air freight. Sea freight services are an integral part of global trade and play a crucial role in the movement of goods between countries and continents.
Sea freight often involves the use of standardized shipping containers. These containers come in various sizes, including 20-foot, 40-foot, and even larger sizes. Containerization simplifies the loading and unloading of cargo, ensures its security, and facilitates intermodal transportation (seamless transfer between different modes of transportation, like ships, trucks, and trains).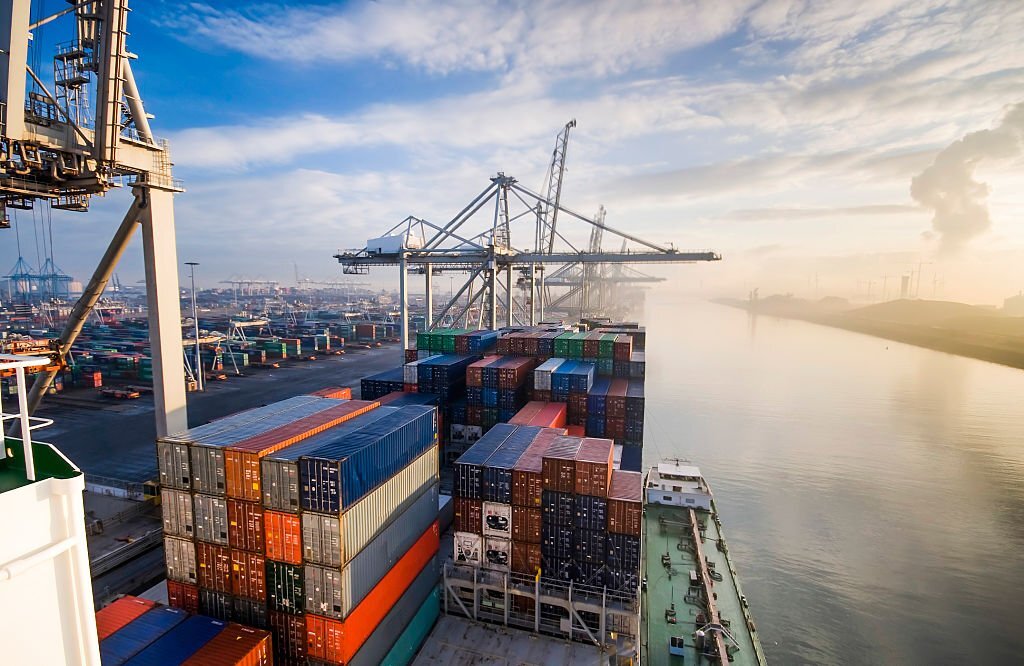 TYPES OF Sea FREIGHT SHIPMENTS
Sea freight accommodates a diverse range of cargo types, from bulk commodities like oil, minerals, and agricultural products to consumer goods, electronics, and automobiles. The flexibility to transport such a variety of items is a testament to the adaptability of sea freight.
Full Container Load (FCL): In FCL shipments, a single shipper's cargo occupies an entire container. This is suitable for large shipments.
Less than Container Load (LCL): LCL involves consolidating smaller shipments from multiple shippers into a single container. This is beneficial for smaller shipments that don't require a full container.
CALCULATE SEA FREIGHT SHIPPING COST
Sea freight rates are influenced by multiple factors, including fuel costs, shipping capacity, demand, and geopolitical events.
Freight rates can fluctuate and impact a company's supply chain costs. Rates are typically negotiated between shippers, carriers, and freight forwarders.
Most Common Types of Sea Containers
The type of container used will vary from shipment to shipment depending on the cargo. Depending on your shipment, there are different kinds of ocean shipping containers: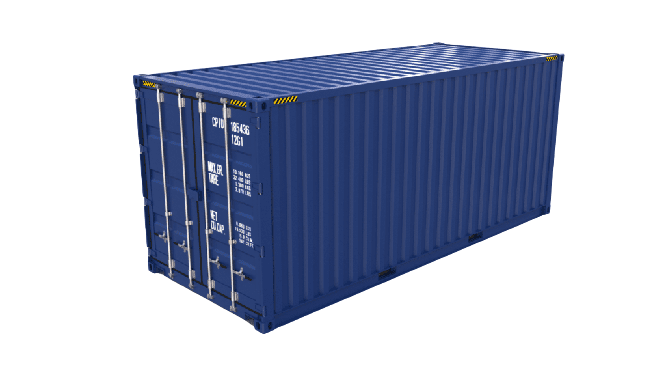 Standard containers are sealed compartments with a solid roof, floor, and walls. There is an entrance door on one of its end walls. Available sizes (length x width x height). There are three sizes of standard containers:
40' x 8' x 9'6" (high cube)
The use of the container: The most common shipping choice for dry cargoes packaged in boxes, bags, bales, pallets, etc. is standard containers. It is wise to ship cargo in a 20′ container that is fully loaded because both 20′ and 40′ containers can carry the same amount of weight. For taller products, the 40′ high cube container is typically used
To make packing easier, hardtop containers are made with detachable steel roofs. Cranes can load goods into containers more easily. The end wall has a swing-out door that allows access to the container. Available sizes (length x width x height). There are three sizes of Hardtop containers:
40' x 8' x 9'6" (high cube)
The use of the container: Heavy loads are best transported in hardtop containers. They can even transport objects that are higher, particularly the 40′ and 40′ high cube options. Hardtop containers can have their roofs completely open and lashed to the interior walls when carrying very tall cargo (this only takes up about 5 ⅛" of space).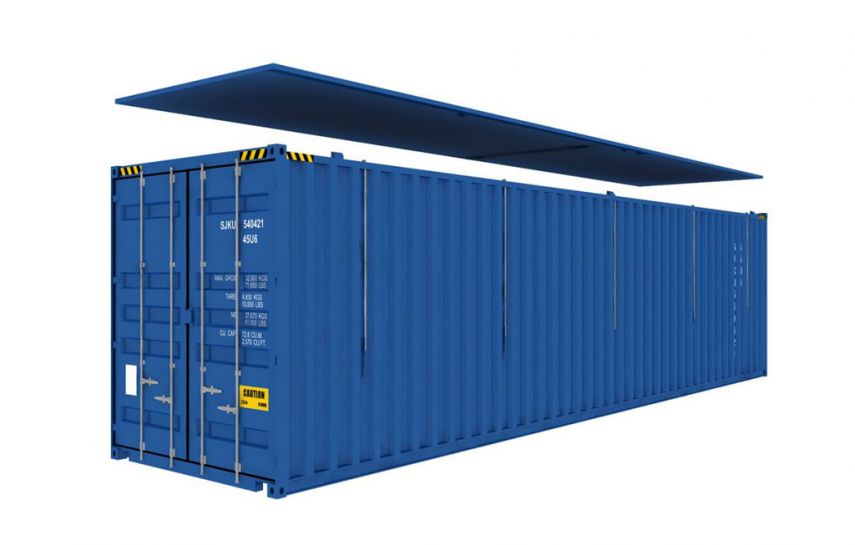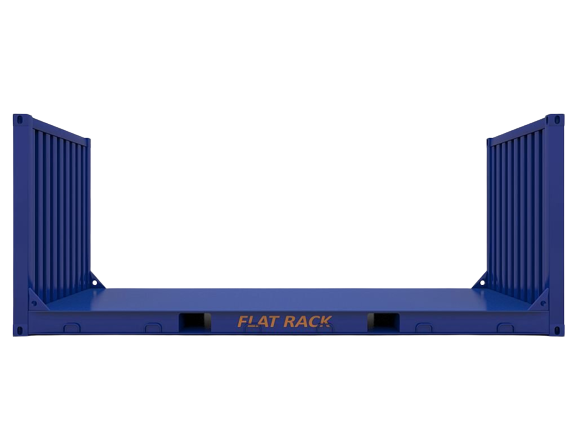 Flat racks containers are a steel frame, with no sidewalls and the end walls are not fixed. There are three sizes of Hardtop containers:
40' x 8' x 9'6" (high cube)
The use of the container: They are generally used to transport heavy and over-sized cargo. It can be stacked on top of each other, allowing for the transport of lots of large products.
A platform container is a floor structure without any side or end walls. There are three sizes of Hardtop containers:
The use of the container: Platform containers are built to carry extremely heavy and oversized loads.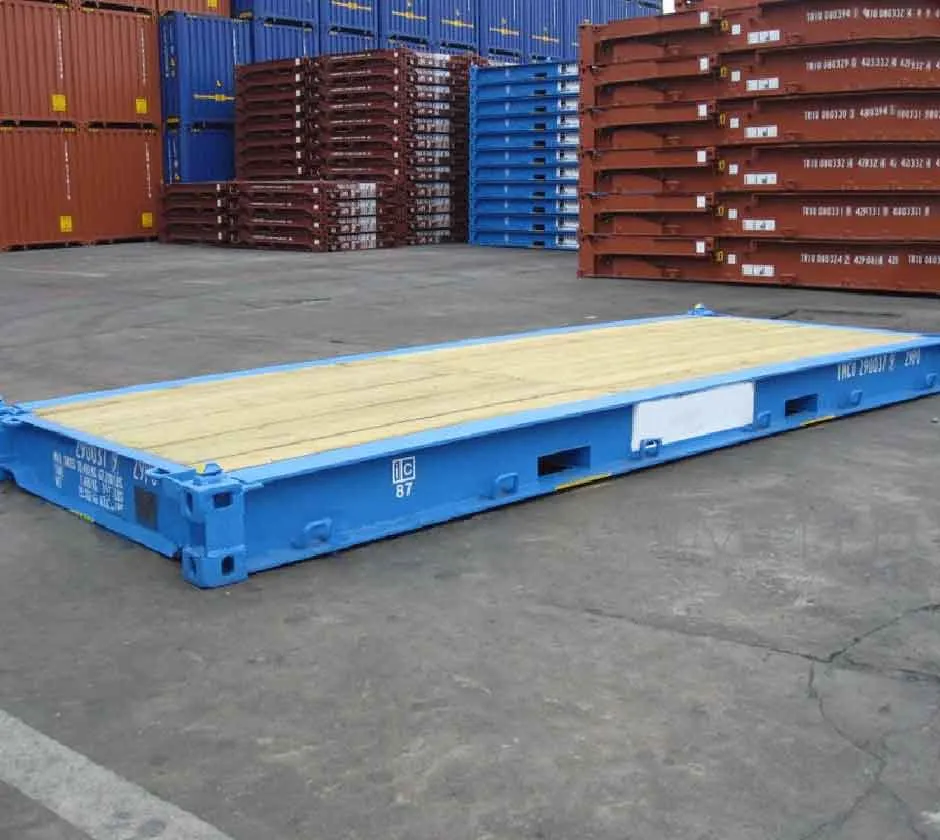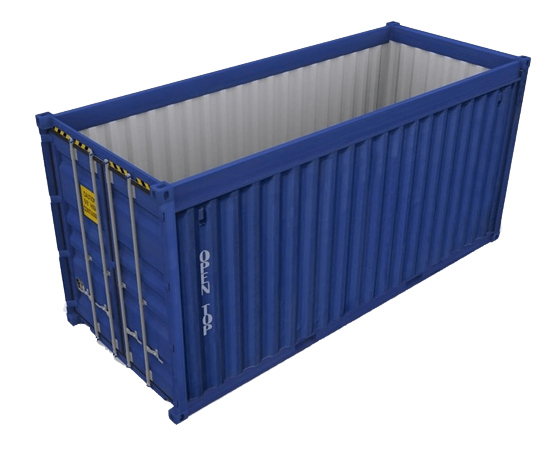 General/standard containers without a hard roof are what are known as "open top containers". Instead, they include a mobile or completely removable flexible tarpaulin roof. Additionally, the tarpaulin is supported by bows that can move or be removed. It is possible to swing out the door header on the end wall(s). Available sizes (length x width x height):
40' x 8' x 9'6" (high cube)
The use of the container: Due to the ability of the tarpaulin to be lifted to provide crane access to the top of the container, open top containers are ideal for shipping over-height cargo. Some over-height objects, however, can be better suited for flat racks because roof bows can help sustain the container. For hefty or large luggage, open tops are another excellent choice.
Reefers, which stand for "refrigerated container," are thermally insulated containers with compressors to heat or cool the packaged cargo inside. Polyurethane foam, also referred to as "sandwich construction," is frequently used in reefer walls to provide effective insulation. Additionally, many reefer containers have movable ventilation, which improves internal airflow. Available sizes (length x width x height):
40' x 8' x 9'6" (high cube)
The use of the container: Reefers were made specifically to transport perishable goods like produce and other items that are sensitive to temperature. Reefer containers should be used to transport cargo whose temperature must remain constant and either be above or below zero.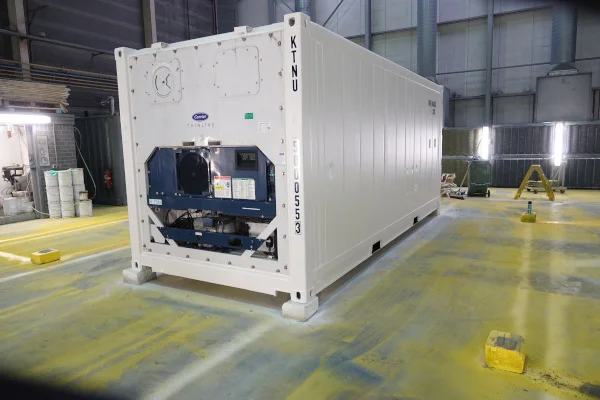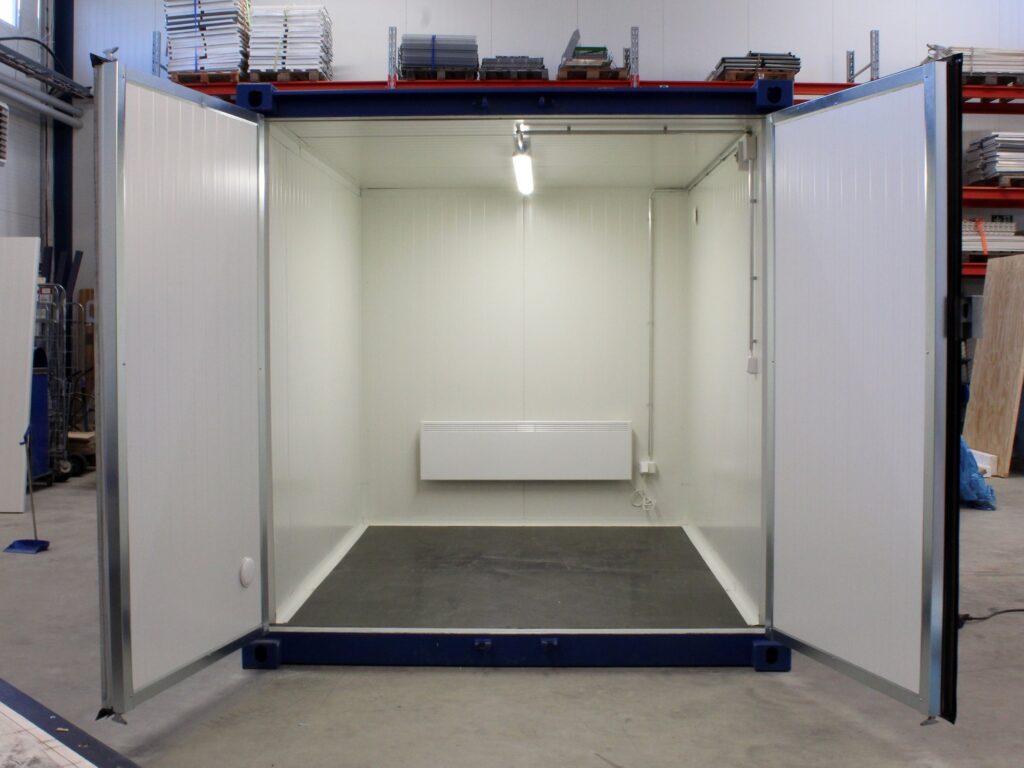 The reefer container is comparable to an insulated container. It has Polyurethane foam on its walls to increase insulation, but for temperature control, it uses the vessel's cooling system or "clip-on" unit. Available sizes (length x width x height):
The use of the container: For cargo that must maintain constant temperatures at or below freezing, this container is advised. All you should require to start shipping goods is one of these seven types of ocean shipping containers. All of these container options are available to you from carriers all over the world, albeit with slight variations in size and weight capacity. You can ship internationally once you consult with your carrier about which container will work best for your cargo needs.
Get OFS's customized Sea Freight Services
As global trade expands and diversifies, sea freight services in the UAE become instrumental in shaping business success. At OFS, we invite you to join us in harnessing the potential of these services to unlock new horizons of growth and opportunity.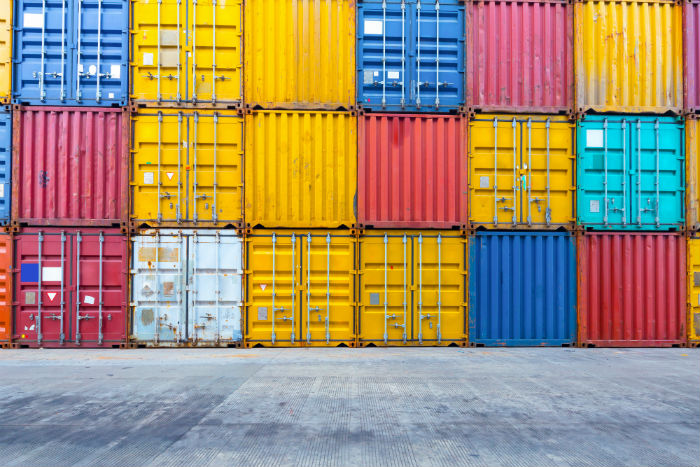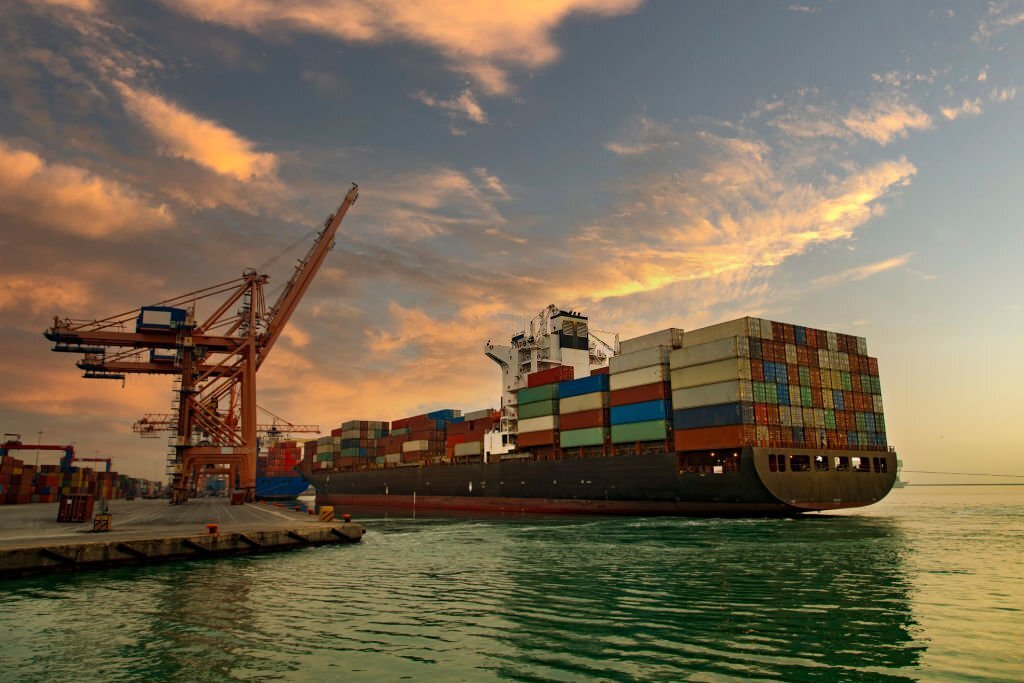 Customization Redefined: Recognizing that each cargo is unique, we tailor our solutions to your precise requirements. Be it Full Container Load (FCL) or Less than Container Load (LCL), we optimize routes and strategies for the most efficient transit.
Competitive Edge: Our sea freight services are designed to enhance your competitive edge in the market. By offering timely deliveries, cost-efficient solutions, and unparalleled reliability, we empower you to focus on your core business while we handle the logistics.
Beyond Cargo, Building Futures: Choosing OFS for sea freight services means partnering with a company that not only transports goods but also contributes to your business growth. We understand that your success is interconnected with ours.
Global Network, Local Commitment: Our extensive network spans the globe, ensuring that your cargo is in capable hands from origin to destination. Our local commitment, however, means that you'll receive personalized attention at every step.
For inquiries and to explore how our sea freight services can elevate your business ventures, we cordially invite you to connect with us. Allow us to steer your business towards a future characterized by streamlined logistics and triumphant trade expeditions.